Hello.  Welcome to Premier Lawns. 

We offer beautiful lawns at affordable prices.

Our Company
Premier Lawns is an independent lawn and gardening business.  We are not part of a large lawn care franchise, and we deliver a professional lawn care service with a local personal touch.  We source the most appropriate treatments for your lawn from trusted local lawn suppliers that will suit your garden, your lifestyle, and your budget.

Our people
Robbie Lynn (MCI Hort), Founder & Owner of Premier Lawns
I have been working in the industry for almost 30 years now.  After attending Greenmount Agricultural College where I studied Sports Turf Science, I began my career as a Greenkeeper working on some of Northern Ireland'smost prestigious golf courses including Clandeboye Golf Club.
Having a passion for and depth of experience in lawns and fine turf I decided I wanted to focus my efforts on running my own business, and to passing my knowledge and experience onto my customers – and Premier Lawns was born.
I have been running the company now for almost 10 years, also completing a HNC in Business & Marketing and a few other short courses to help me along the way – and I love what I do.
I am a member of the UK Lawn Care Association and the Chartered Institute of Horticulture.
Fun Facts:  Apart from creating beautiful lawns, I also love to unwind with a beer and a BBQ, and I organise an annual charity hog roast.  I love creating videos for the Premier Lawns YouTube Channel. One of the biggest channels on YouTube for professional UK/Irish Gardeners.
 Daniel Weir, Lawn Care Apprentice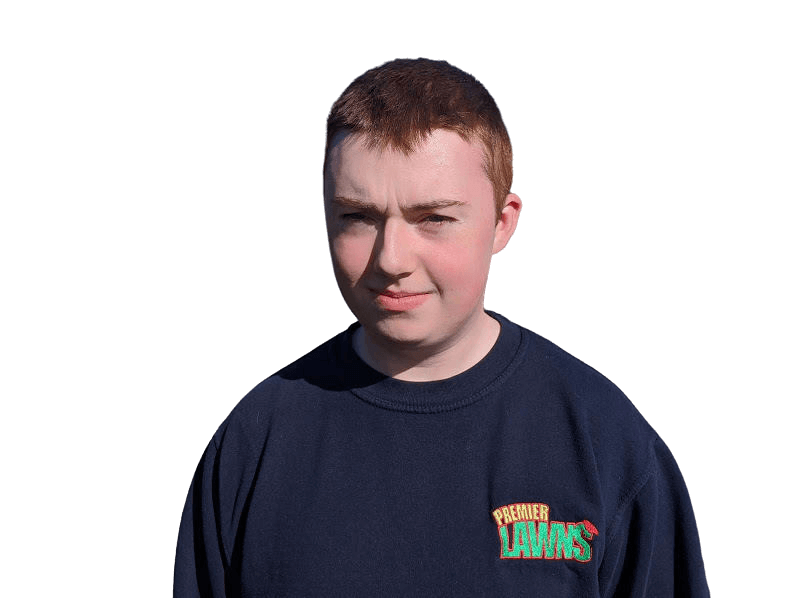 I'm 20 years old and live in Jordanstown.  I have always had a passion for gardening and the outdoors.  I have studied Horticulture at Greenmount Agricultural College.
Fun Facts:  I am football mad, Liverpool is my team.
Noeleen Lynn, Communications Manager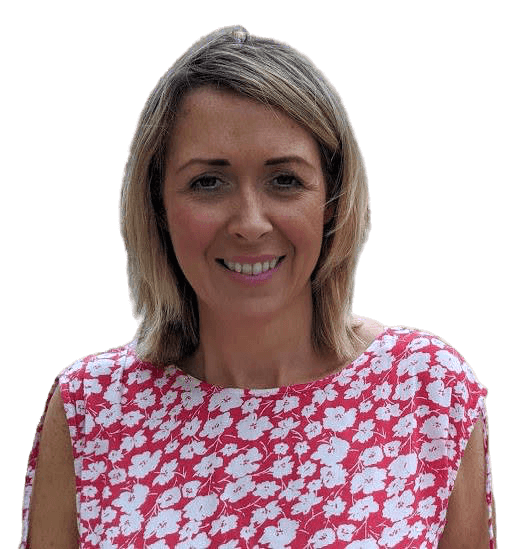 A graduate of Uni of Ulster with an MSc in Communications, Advertising, and Public Relations, I have worked in fundraising and marketing for a local cancer charity for almost 10 years.  Prior to this, I supervised a customer services team for a large transport firm.  I am now also fully involved in the family business and manage all Premier Lawns communications activities.
Fun Facts:  I enjoy beach walks with Bella, coffee & cake, micro-blogging, and shopping for home décor including pretty plants for my window boxes.
 Bella
I was born on a farm in County Wicklow (the garden of Ireland), but I came to live with Robbie and Noeleen when I was 10 weeks old and I have been guarding the Premier Lawns office ever since.  You might also see me out in the Premier Lawns van occasionally, or in the odd Premier Lawns YouTube video where I take on cameo roles.  Folk say I am by far the cutest and most cuddly member of the team.  I love the beach and forest walks, but I don't like to swim.

Our Services
We offer a range of quality lawn maintenance and gardening services, including:
Professional application of lawn feed and weed control treatments.
Lawn care treatments for weeds and moss.
Lawn aeration and scarification.
Lawn renovation.
Lawn mowing and grass cutting.
Power washing and cleaning of driveways and patios.

Our Locations
Areas we work include:
Belfast, Holywood, Cultra, Craigavad, Whiteabbey, Jordanstown, Greenisland, Carrickfergus, Whitehead, Islandmagee, Newtownabbey, Glengormley, Templepatrick, Straid.
Not sure if your area is covered by our services?  Contact us to find out more.

Our Customers

Our Community
We believe in giving back and are delighted to volunteer our lawn treatment services for our chosen charity Hope House.  Hope House is a beautiful haven by the sea located on the beach at Browns Bay, offering free accommodation to cancer patients and their carers to help with rest and recuperation.

Our Communications
YouTube, Facebook, Instagram, LinkedIn,