Would You Like a Perfect Lawn?
Our Lawn Treatments are Designed to Nurture Dream Lawns
A well maintained and healthy lawn sets your home and garden off a treat, it can even add value to your property. But a perfect lawn doesn't happen by chance. A regular mowing regime along with seasonal lawn treatments are essential to creating and maintaining your perfect lawn. On the clay soils in and around Belfast and with the Northern Irish weather to contend with, lawn care in Belfast needs a carefully considered approach.
Robbie Lynn from Premier Lawns maintains many beautiful lawns and gardens in the Belfast area. His training and experience as a greenkeeper mean that he is more than just a mower man. When you ask Robbie to help you with lawn treatments, you can be sure that your grass will receive the very best of care.
Our Five Point Programme for the Perfect Lawn
Premier Lawns' five point treatment program has been designed to cope with the challenges of the clay soils in and around Belfast. Moss is a particular problem on clay based soils and it needs an all-year round approach to keep it under control.
Robbie and the team will visit in spring, early summer, mid summer, autumn and winter to assess your lawn and apply treatments that will make the soil less attractive to moss and help the grass to outcompete unwanted plants. The result will be a lush, verdant lawn that looks its very best all year round.
Bespoke Lawn Treatments for Gardens in and Around Belfast
Every single lawn that Premier Lawns cares for has a bespoke maintenance programme based on the soil type, grass species, microclimate and the frequency and type of usage.
Robbie recommends a series of five tailored treatments during the course of the year. The entire programme is designed to refurbish, support and nurture your perfect lawn
Control moss and weeds
Reduce the effect of common lawn diseases
Repair and rejuvenate
Help manage drainage issues
Protect the environment
Click Here to Talk to Robbie about Bespoke Treatments for Your Lawn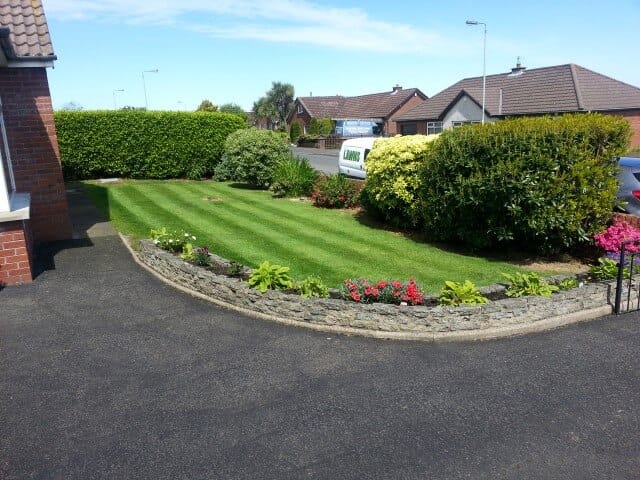 A typical Lawn Treatment Calendar for Belfast Area and Beyond
March / April  Spring Starter Lawn Treatment
Wake your lawn up and prepare the plants for the growing season with an application of granular feed.
Scarification to pull any moss, debris and unwanted plant matter out of the sward. It's like a spring clean for your lawn!
Aeration: Belfast soil is very prone to compaction which makes life more difficult for roots to thrive. And if roots suffer, so do the plants. Hollow tine aerating relieves compaction, allows the roots to breathe and also improves drainage.
Weeding: If, and only if, your lawn has any visible weeds or moss we'll apply appropriate treatments. The Premier Lawns view on weeds is to only use chemicals when absolutely necessary. We prefer to boost the grass so that it out-competes unwanted plants.
Robbie recommends: For the ultimate spring starter, Robbie strongly recommends a liquid seaweed tonic. It supplements scarification for moss control and gives the lawn a beautiful deep green colour. Read more about seaweed treatments and how they give your lawn the wow factor
May/June Early Summer Lawn Treatment
The height of the growing season. You'll be mowing more frequently and hopefully enjoying your lawn.
All plants grow faster at this time of year and it's vital that they have the correct nutrition. Not only to support growth, but to help them cope with wear and tear and resist lawn diseases.
Early summer lawn treatments usually involve
Assessing the health and condition of the lawn
Applying a nutritious spring/summer feed
Spot treating stubborn weeds
Robbie recommends an application of liquid seaweed tonic to boost summer greenness.
July/Aug/Sep Late Summer Lawn Care
Summer is a testing time for grass plants. They are coping with more wear and tear as we enjoy the outdoor life. These are the drier months of the year when the danger of dehydration looms on the horizon. With weed seeds blowing in the air, it's vital to keep your lawn in tip top condition so that unwanted plants simply cannot find a space to grow in your lawn.
Late Summer Lawn treatments are all about boosting vitality
Feeding: Applying a summer formulation lawn feed which contains plenty of potassium. Potassium helps plants to regulate their water content and cope with drought conditions.
Weed control: Spot treating stubborn weeds and/or moss
October/Nov Autumn Lawn Treatments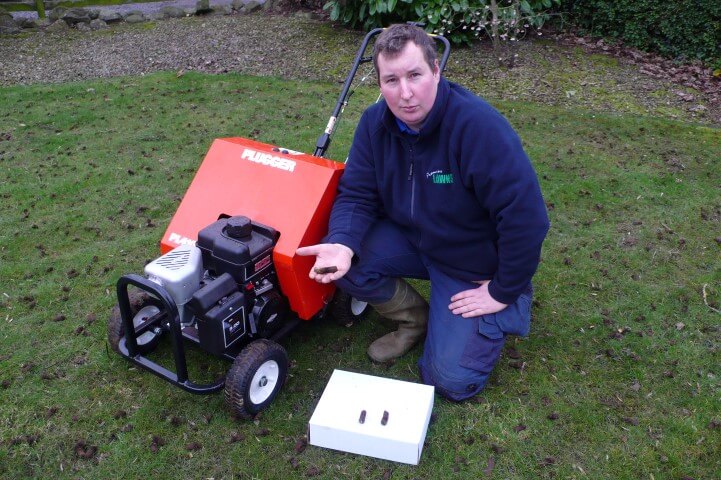 Autumn lawn treatments are to help your lawn recover and recuperate from summer. At this time of year we're also thinking about the condition of the soil beneath your lawn and we're talking moss management.
Feeding: A liquid feed containing the right balance of nutrients for the time of year. Enough to support the plants' metabolism but without encouraging weak or sappy growth. The autumn feed is vital if you want to avoid common lawn diseases like fusarium and redthread.
Vitality Boost + Moss Control: Robbie heartily recommends an autumn seaweed treatment in autumn. Seaweed contains Iron, one of the best kept secrets of professional greenkeepers. Iron encourages a deep green colour in the grass sward but even better than that – it's the natural enemy of moss and will help to keep this particular plant under control.
Aeration: Well used, poorly drained or compacted lawns will benefit from an autumn aeration.
Scarifying: Clear out any unwanted moss and thatch so that the health and thickness of the sward can be assessed.
Overseeding: For lawns that are struggling with shade or heavy wear and tear, Robbie recommends overseeding in autumn with carefully chosen grass seed species. The grass seed we use will be tailored to your lawn and how you use it
December / January  Lawn treatments in winter
In actual fact, the winter lawn treatment can make a huge difference to the way your lawn looks behaves
Seaweed Treatment: Moss breeds in winter time. Our winter lawn treatment includes an application of seaweed tonic. Not only does this boost the colour of your grass, it helps to nip moss in the bud.
Does your Lawn need Premier Lawns' help?
Contact Robbie for an informal chat and a lawn assessment.
Useful Links
How to get and maintain your perfect lawn
What to feed your lawn and when – all about nutrition
Scarification – what is it and why is it important?
Using a seaweed tonic to give your lawn the wow factor