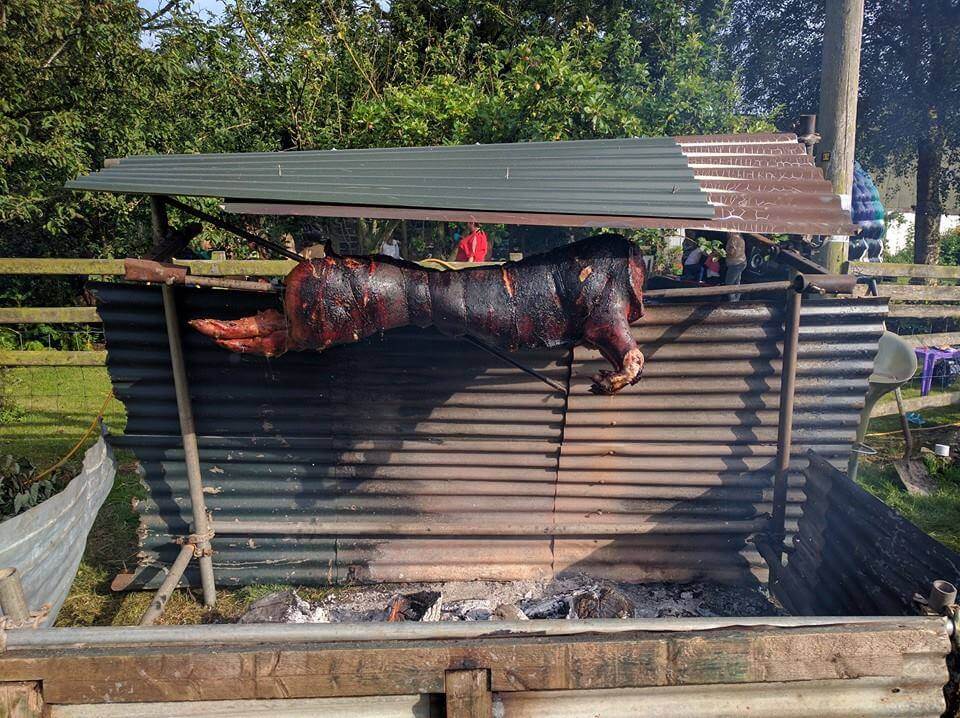 Premier Lawns is proud to sponsor the
2018 Shoe Tree Festival Fundraiser.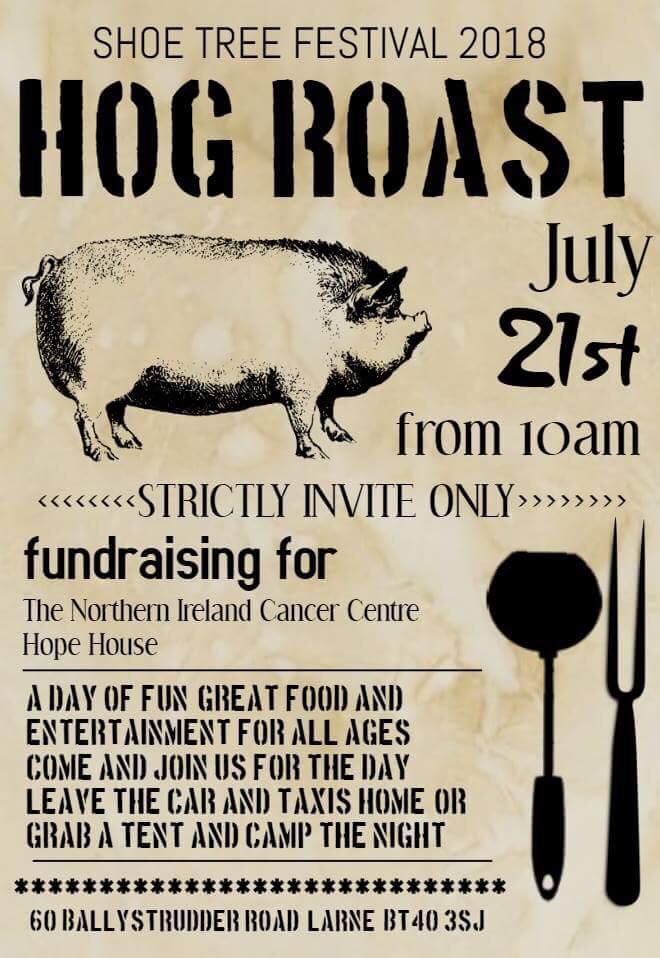 A day of fun, great food and entertainment for all ages.
Come and join us for the day, leave the car and taxi home, or grab a tent and camp.
This year's proceeds will be split between Hope House and the NI Cancer Centre. We kindly ask for an entry donation of £10 per adult, £5 per child, £25 per family of 4 towards our chosen charities which will include your food and entertainment.
Alongside our evening Hog Roast we will be having a daytime BBQ, bouncy castles, games (think Tug 'o' War, Dance-off's, Wellie Boot Throwing!), face-painting and nails, and music all day – thanks so much to Hillbilly Biltong Band who will be playing in the evening, and off-course our resident DJ Ray McKeown ?. If you fancy, bring along your own instrument and join in the singing and dancing (sorry no free pints at this particular session though).
All attendees and all who donate will be entered into the Star Prize Draw to win a crossing to Scotland for a car and two passengers courtesy of P&O – thank you!
If you are unable to attend but would still like to make a donation toward our chosen charities you can do so via the Just Giving page, or we can accept cash or cheque.
We will also be holding a raffle on the day with lots of fab prizes – thanks so much to all our contributors, once again everyone's generosity has been amazing!
Come for the day, stay for the night in your tent – just let us know in advance please so we can arrange a space for you.
What you need to bring – yourself, your chair / picnic blanket, your tipple of choice, sensible footwear (sorry ladies ?) ….and your charity donations, it's about raising money folks as well as having a bit of craic.
Hoping to make this another amazing and memorable family fun day out, celebrating community spirit with general fun and frolics, Islandmagee style. See you all on Saturday, the sun is going to shine and we are going to have a fantabulous time!!!
A very minimal amount may need to go to helping toward costs of the day, but if so this will be very small, the majority of goods / services are being provided by us and other contributors (thank you everyone) so that as much as possible goes directly to the charities. (If any local businesses / families would like to help by sponsoring our last few bits and bobs please get in touch).
About our charities
In 2016 we raised over £1200 for the NI Children's Hospice and would be delighted if we could exceed that this year for these very worthy local charities.
Hope House provides complimentary, self-catering accommodation by the sea for rest and recuperation for adults who have had a recent diagnosis of cancer. The charity is in the process of renovating new premises at Browns Bay and it would be great if we could help them out a little. Further information can be found at https://www.facebook.com/pg/hopehouseireland/about/?ref=page_internal
Based at the heart of the Cancer Centre at Belfast City Hospital, Friends of the Cancer Centre supports local cancer patients and their families through their work which focuses on three key areas of patient care, patient comfort, and research – and supporting the services provided by the Health Service. Further information can be found at https://www.friendsofthecancercentre.com/how-we-help/
Our Just Giving page is https://www.justgiving.com/fundraising/christine-lynn1
The address is 60 Ballystrudder Road, Islandmagee.
Invitation only! – If you haven't got yours yet, get in touch today!
Hope House provides complimentary, self-catering, accommodation by the sea for rest&recuperation, for adults who have had a recent diagnosis of Cancer. To help alleviate the stress of patient (and carer) who travel long distances to the Belfast City Hospital or another centre for chemotherapy, by providing them with a relaxing accommodation that is 17miles from the Hospital. We also provide short stay breaks for anyone who is living with a Cancer diagnosis.
Friends of the Cancer Centre at Belfast City Hospital, the charity funds life-saving and life-changing projects that make a real and lasting difference to the lives of thousands of local people affected by cancer and in the last year alone, Friends of the Cancer Centre has put £1.2 million back into local cancer services.
Note: This is not an official Premier Lawns event but we are very proud to be a sponsor.
We have some fantastic prizes lined up for the raffle…
Port of Larne – P&O ferry crossing for 2 adults and a car on a return Larne to Cairnryan
Clandeboye Golf club, 2 ball.
G Devine, Ballycarry, car service.
Premier lawns vouchers
Meal for two Coffee Doc, Larne, voucher.
Allen Interiors, Larne, voucher.
D watts, Boucher, Larne, voucher.
Ken Falconer, life Coach and Hypnotherapist, voucher.
Hogan Fruit Shop, Larne. Food Hamper.
Halo Hairdressing, Larne, blow dry.
Orchard Holistic Therapies, Whitehead, voucher.
Kilcoan Gardens, Islandmagee, voucher.
Victoriana, Whitehead, voucher.
Glam Hairdressers, Whitehead, blow dry.
Anne Mckeag Beauty Therapist, Glam, Whitehead, voucher.
Sunny Bank Nursery, Eden, Voucherx2.
Billy Robinson, fish man, a bottle of wine.
The Secret Place, Ballyclare, voucher
Body Fusion NI, Sports Massage voucher
For further information please contact us on 02890 869565.