Whether you are a lawn care professional, or somebody who wants to keep their own lawn in the very best of shape (or both!), your lawn mower is by far the most important piece of equipment you'll need. Here are my tips for choosing the perfect lawn mower for you.
Thinking of buying a lawn mower? There are thousands of different models to choose from. But which will be right for you? I can't tell you exactly which make or model to buy, but I can help you to narrow down the choices. Here's what you need to think about.
Choose the best power source for your circumstances
How big is your lawn?
Decide what finish you'd like on your lawn – bowling green style? Family lawn?
What sort of maintenance regime best suits your lifestyle?
Where will you store your mower? and will you be transporting it on a regular basis?
Finally – what's your budget?
Powering your mower
We're very lucky in this day and age to have so many choices as to how to power our garden machinery.
If you have a small lawn and it's close to a source of electricity, you might feel that an electric mower is best for you. They're generally light weight, easy to manoeuvre and don't take up too much storage space. Plus you won't need to be running to the garage every week to buy a can of petrol.
Petrol mowers seem to be popular and there is a wide choice of brands and sizes on the market. Everything from a neat 14" mower for small lawns and paths, to a hulking great ride-on. Some Petrol mowers do need an annual service though, and of course, you need to collect the fuel.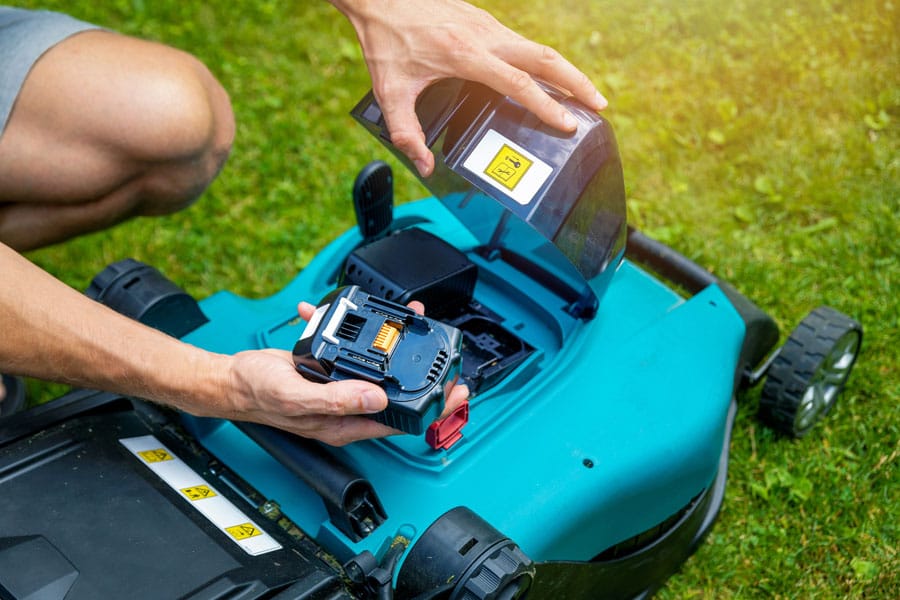 Battery power. Some people feel that petrol mowers are potentially harmful to the environment. We've recently seen more cordless mowers coming on to the market, and I think they're worth considering. No wires, no emissions and if they perform as well as the Milwaukee hand tools I've trialled, you may well see Premier Lawns going cordless in the future.
Push power. I remember my dad mowing the lawn with a Qualcast push mower. It wasn't great for long grass or wet grass, but it certainly gave him plenty of exercise and didn't cost a penny to run. You can still buy push mowers – if you have a small lawn that you cut 2-3 times a week, and you want to lower your impact on the environment, these are perfect.
Cutting your workload by choosing your mower size carefully
The bigger your mower, the fewer the number of passes you'll need to make with it. BUT, bigger mowers tend to be heavier too.
A ride on mower with a large cutting deck can save you hours of work. However, big mowers are not always efficient at getting into small corners. You may need a supplementary small mower to get the finish you're after.
My advice is to go to your local mower retailer and have a look at what's available. More importantly, try pushing moving them around. Go for the biggest one that you can comfortably manage.
Lawn management
This is where your choice of lawn mower really comes into play. Ask yourself these questions.
How do you want your lawn to look? Are you going for a close-cut, tightly manicured lawn for occasional use? Or does it need to be robust enough to withstand children's play?
Is there a risk that your lawn will get a little longer than most (eg in wet weather or if you go on your holidays?).
How level is your existing lawn – have you got any lumps and bumps in it?
What type of grasses are in your lawn? Will they tolerate close mowing?
Broadly speaking, you have two choices.  Rotary mowers or cylinder mowers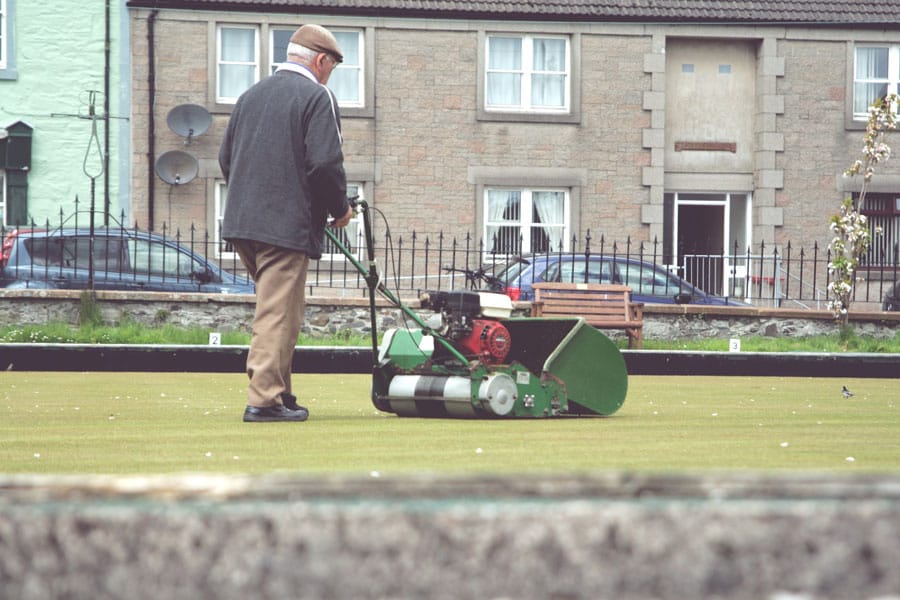 Cylinder Mowers
Classic cylinder mowers are the cream of the crop and are favoured by greenkeepers who want to create an immaculate playing surface. Ideal for enthusiastic lawn lovers with beautifully level surfaces and grass that never grows too long.  Your average cylinder mower doesn't cope well with long or wet grass.
If you're going for a cylinder mower, bear in mind that the blades may need to be sharpened using specialist equipment. Most mower repair shops offer the service, but it will be worth checking on prices before committing to buy.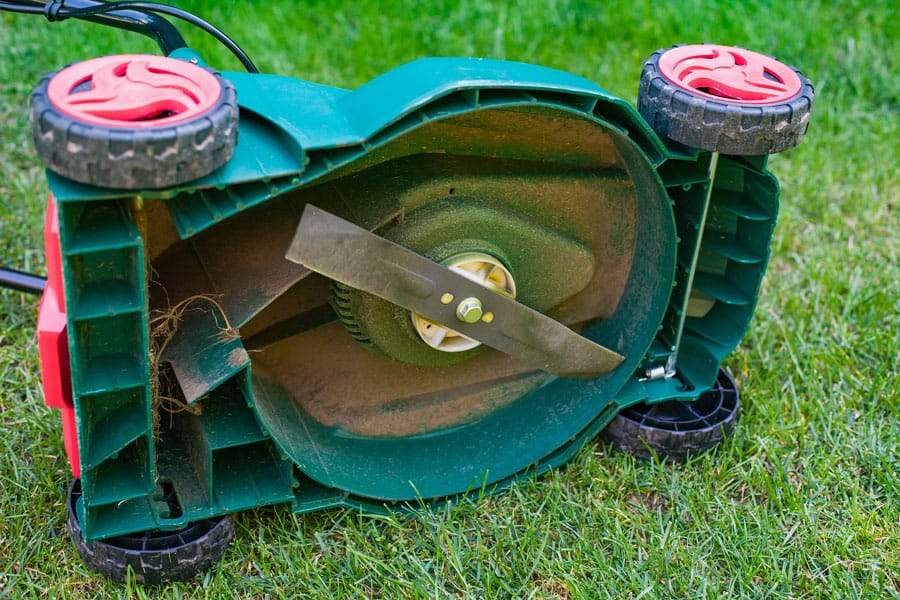 Rotary Mowers
Relatively affordable, easily available and very adaptable. Although I crave a cylinder mower, for my work, rotary mowers are the best. A professional standard rotary will cope with damp grass – which is just as well. Working in Belfast means regularly dodging rain showers and if my mowers couldn't cope – I'd struggle to make a living.
These beauties don't mind if the surface of the lawn is a bit uneven – although you might need to raise the cutting bar so that you don't scalp the hillocks.
For a family lawn or one containing faster growing grasses like ryegrass – I'd choose a rotary mower every time. They're also great for shaded lawns, where maintaining a longer cutting height helps the grass to cope with lower light conditions
Whichever type of machine you choose – remember that the cutting height must be adjustable and a grass bag is essential.
A word about Mulching Mowers
Mulching mowers are a relatively new phenomenon and are great for lawn lovers who are never quite sure what to do with clippings. In essence, the mower blades cut the clippings several times turning them into a fine mulch which is forced back down into the sward where it decomposes and nourishes the soil.
It's a good idea IF you mow regularly. The cutting decks can't cope with an overload of clippings! You also need to maintain your lawn about 1cm (1/2 inch) longer than usual too. And be diligent about scarifying the lawn – there may be an extra build up of thatch.
Storing and transporting
Don't leave mower storage until you get your machine home. I hate to say it, but there are some roguish people out there who will happily borrow your mower on a permanent basis if it's easily accessible.
Storage needs to be secure and it's also good to have enough space to work on your mower too. It's great to have a bench where you can sharpen blades and clean filters and spark plugs (if your mower has them). It's also handy to have and a hard surface where you can brush away grass particles from the bottom of your mower. Good mower hygiene helps control lawn diseases.
If, like me, you maintain several lawns that are a good distance apart from each other, you'll need to transport your equipment. Try before you buy! Can you get the machine into your vehicle without damaging it or hurting your back? I like to use portable ramps to get mowers, scarifiers and aerators into the van. Safer all round.
How much to spend on your lawn mower
Finally, once you have your wish list of mower features, it's time to go shopping. Mower prices vary wildly. My advice is to buy the sturdiest, most well built machine you can find within your price range and take good care of it. After all, it's an investment – the state of your lawn affects many things, from your pride in your garden to the value of your property. Choose wisely.
Read more about how to get and maintain your perfect lawn