Our complete lawn care calendar is stuffed with monthly lawn care tips outlining everything you need to achieve and maintain your perfect lawn in 2022 and beyond.
I've been creating and maintaining beautiful lawns for over 20 years now and I like to think that I'm pretty good at it. Cultivating the perfect lawn is all about understanding plants and the soil and how their needs change from season to season.
In this complete lawn care calendar, I'll be giving you a month by month guide to what your grass needs and which jobs you need to do to encourage healthy growth. This calendar is aimed at gardeners in the UK. If you are one of the many readers who visit my site from elsewhere in the world, you may need to adapt some of the timings to suit your own climate.
From time to time in the article, I'll also include links to products that you might find helpful. If you do decide to buy these products, it won't cost you any extra, but I will recieve a small commission from the suppliers. This income all helps me to keep creating videos and blogs.
Please feel free to bookmark this article and return to it as and when you need to. Or, If you'd like to sign up to my monthly newsletter, I'll also send you timely reminders for jobs to do.
Scroll down to fast-track yourself to the right month. Or, even better, make yourself a brew, grab a biscuit or two and settle down to read the whole article.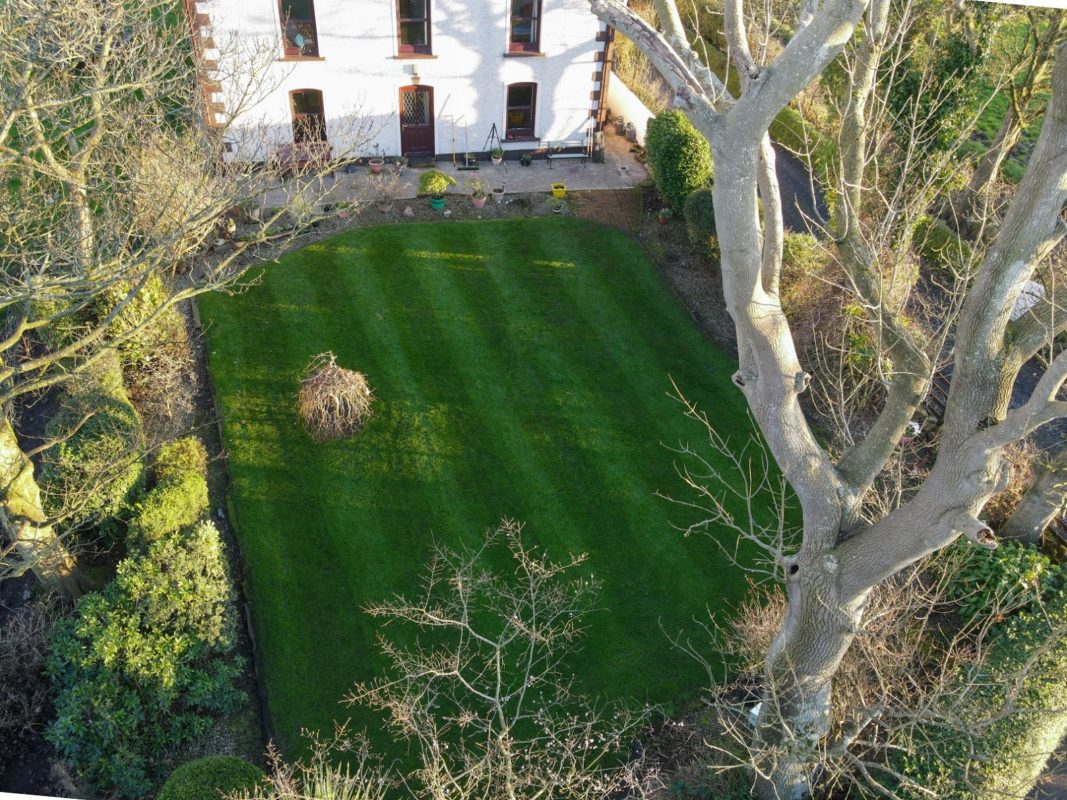 Aiming for a lawn that looks good all year round? Following the tips in our lawn care calendar will help you to grow your perfect lawn.
January Lawn Care
It's very unusual for grass to be growing strongly in the UK at this time of the year. However, during a mild winter, you may find you need to mow at least once. Be mindful of the conditions, don't even try to walk on your lawn if it's frosty or if the soil is very wet. If you do nothing, you can do no harm.
Jobs to do in January
Service your lawnmower ready for the start of the new season.
Take photographs of your lawn from above (using a drone) so that you can identify any problem areas that may need treating later in the year
Prune any surrounding trees and hedges that could cast heavy shade on your lawn in the growing season
Order in supplies of spring/summer formula lawn feed
Consider applying a seaweed feed if your lawn is looking a little off-colour
Apply a low nitrogen winter feed to help with frost hardiness
February Lawn Care
As for January, you may or may not find that your lawn needs gentle mowing. My advice would be to keep the grass as long as you can tolerate it at this time of year, and certainly never scalp the lawn. The plants need every possible square millimetre of surface area to harvest sunshine to make the energy they need to thrive in cold conditions. For a family lawn, aim for at least 7-8cm between the ground and the tips of the grass blades.
The one thing to remember about any lawn care or gardening calendar is to use it as a guide but base your decisions on the weather outside. If we're lucky with the weather in February, the soil may begin warming up towards the end of the month. Be wary of carrying out any renovations this early though – the weather can change in an instant!


Jobs to do in February
Mow if you need to but avoid the temptation to remove more than 1/4 of the grass length. The 1/3 rule is great for summer, but I always advise extra caution when there is still a risk of frost.
Talk to your lawn care company to arrange spring renovations such as scarification and aeration
If your lawn is very wet, carefully use a cordless drill to open up the soil structure and help excess water drain away.
If you've not already done so – service your lawn mower paying special attention to getting those blades sharpened.
Research different types of grass seed if you plan to overseed in spring.
Have you bought your spring/summer lawn feed yet? You'll soon be needing to apply it!
Keep an eye out for signs of common lawn diseases such as fusarium patch. Especially if your lawn has been covered with snow at any time during the winter.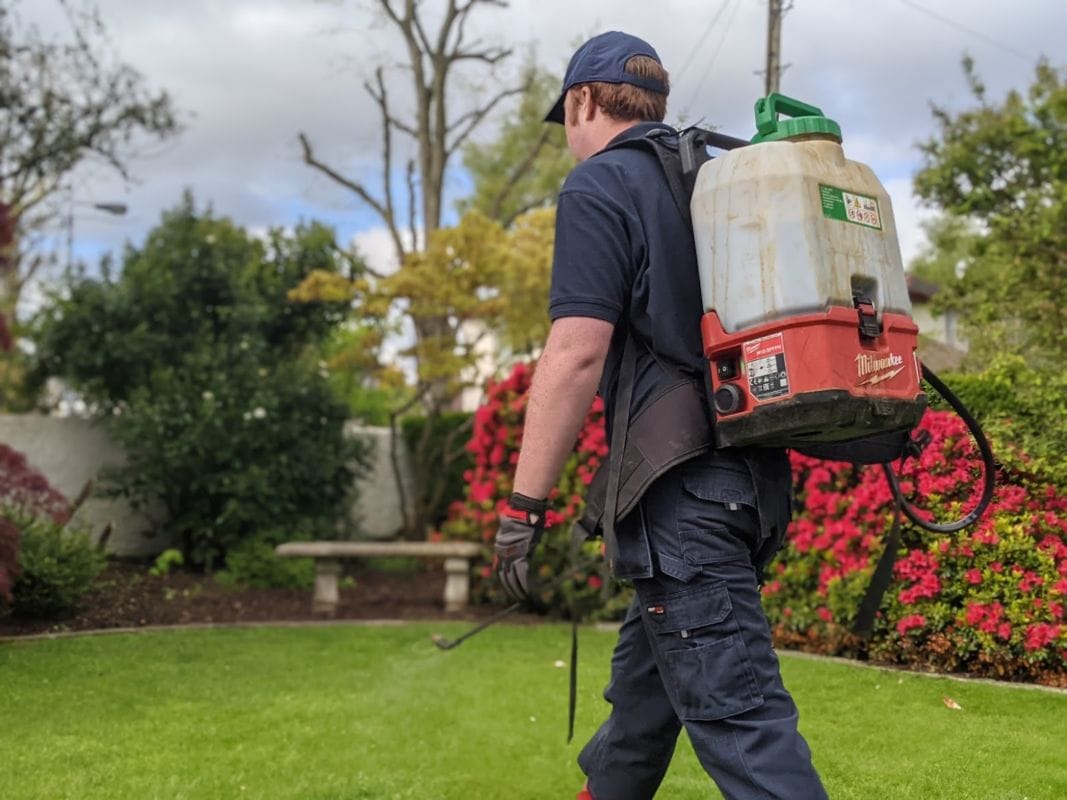 March Lawn Care
My favourite month in the lawn care calendar. The soil will be warming up now and you'll start to see signs of spring wherever you go. Buds will appear on the trees, the birds will be flirting outrageously and lawn growth will start to speed up. It's essential to start thinking about lawn nutrition and creating the ideal soil conditions for your lawn to thrive.
Jobs to do in March
If the weather is mild and the soil temperature is consistently above 6 degrees centigrade, go ahead and carry out renovations.  Aerate and scarify your lawn….employing a professional to do the work if you don't have the time.
Start keeping a diary of any lawn treatments you've used and what the lawn looked like before and after.  Photo's are great – you'll really be able to see how your work has affected your lawn.
Apply a spring summer lawn feed
Give your lawn a boost through this period of rapid growth by applying a seaweed based foliar feed. 
Treat your lawn for moss – at this time of years tiny spores are just germinating – don't let them get established!
Check for weeds and spot treat them if necessary.  Click here if you have a problem with weed grasses to address. 
Start mowing regularly but don't reduce the height of the lawn too much – it's not too late in the year for a sharp frost!

April Lawn Care
Ahhhh April, possible one of the busiest months in the lawn care calendar. The garden is really springing to life and even if we get April showers, it feels good to be outside. Your lawn is going to be using lots of nutrients right now as the grass plants are wanting to start their reproductive cycle. Left to their own devices, every plant with start to grow as tall as possible with a view to producing seeds towards the beginning of summer. Your job is to thwart their efforts – unless of course you are planning to let part of your lawn grow a little longer to help support wildlife.
Jobs to do in April
Mow, mow, mow. Depending on how you plan to use your lawn this summer, now is the time to start reducing the height of your cutting blades. Remember the 1/3 rule. Lawn care is a marathon not a sprint. If you do too much too quickly you risk stressing the plants and making them vulnerable to disease.
If march was too cold for lawn renovations, carry them out between now and the end of May. Scarification and aeration will help you to provide the optimum conditions for growth.
April is a good month to topdress your lawn with a good quality topsoil. To save yourself from a lot of hard work, and to ensure even coverage, it's well worth investing in a soil spreader
Overseed any thinning or bare areas in your lawn using the right type of seed for your garden. Read my blog on seed selection if you need any help deciding what to sow.
Trim lawn edges regularly. Manicured edges make the whole garden look loved – even if you've been so busy with lawn care that the weeds have invaded your borders! It's all a matter of priorities.
With the grass growing quickly and strongly, you might want to try your hand at cutting stripes into your lawn. Watch my video for some top tips on striping a lawn.
May Lawn Care
The UK in May will be when you start to see all of your hard work pay off. Well fed lawns are looking resplendent, the weather is warm enough for you to be using your garden on a regular basis and summer plantings look their best. Especially if they are framed by a deep green, even coloured carpet of lawn. This is a fast period of growth for your lawn. Make sure that the plants are well nourished and aim to mow little and often. Possibly as much as 2-3 times a week.
Jobs to do in May
Sharpen your mower blades again – they'll be getting a lot of wear and tear in the next few weeks
Mow every 2-3 days. Especially if the grass is sending up coarse, wiry spikelets as it tries to set seed. You need to confuse the plant so that it abandons the idea of reproducing itself. If the weather is dry enough, it's OK to let the clippings fly if you want to.
If you like a close cut lawn, now is the time to start reducing the cutting height. Remember the 1/3 rule though.
Apply a spring/summer lawn feed
A nice dose of seaweed based foliar feed will really help to achieve a lovely rich green colour
If your lawn is very compacted, aerate again this month. If you have already scarified this year, there's no need to do it again.
Spot treat any weeds if necessary
If your lawn is lumpy or uneven – it's not too late in the year to topdress it with topsoil.
Don't forget to Keep a record of what treatments you've applied, how much, when, and what the weather was like at the time. Take photos or videos and make a note of the date. I'd love it if you could share them on Premier Lawns Community page on Facebook – it's always good to celebrate other people's work.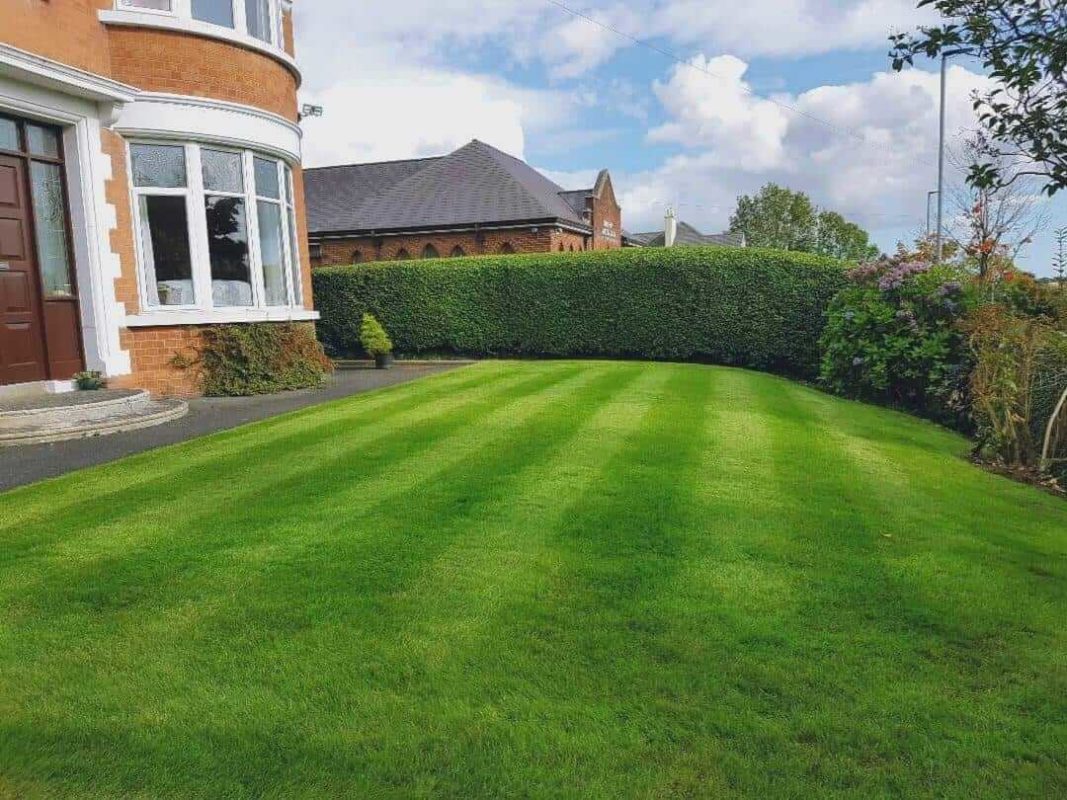 June Lawn Care
Ahhhh, flaming June. Keep an eye on the weather forecast this month. If there is any talk of drought on the horizon, you'll need to prepare your lawn by raising the height of cut.
Mostly though, June should be about enjoying your lawn. Remember to pick up any toys, blankets, furniture etc at the end of the day – or at least move them around so that you don't scar the bits of lawn that have been deprived of light.
Jobs to do in June
Do you plan to water your lawn this summer? If so, now is a good time to check that all of your irrigation equipment is in good working order. Planning a holiday? Look for an irrigation system with a timer or one that can be operated by an app.
Keep mowing every 2-3 days
Remember to move lawn furniture, toys, goal posts etc as often as you can to avoid stressing the grass
Trim the edges, reshaping your lawn if necessary. 
Be sure to enjoy your lawn! After all, that's the end goal of all the hard work you've been putting in.
In hot weather, raise the cutting height of your mower.  Longer grass always fares better in a drought situation. The sward seems to shade the soil, keeping it cool and reducing the amount of water lost to evaporation.
Watch out for signs of redthread disease – an indicator that your lawn is stressed.  If you see any symptoms, treat them as soon as you can. Always mow these areas last and be sure to disinfect your mower blades afterwards.
Experiment with stripes on your lawn.  They don't have to be straight up and down.  Have fun by mowing chequerboard patterns, circles, or even mazes and labyrinths. The book "Picture Perfect" by David R Mellor has some inspirational ideas 
If you've a big event coming up in your calendar – perhaps something to celebrate The Queen's Platinum Jubilee you can give your lawn some extra colour with an application of seaweed tonic.


July Lawn Care
July in the UK can be scorching hot and left to their own devices, lawns tend to lose their green colour and become straw coloured. If you are lucky enough to live in the countryside, take a peek over the hedge into farmers' fields. Wheat and Barley (both types of grass) will be changing colour too. It's natural for grasses to turn brown in summer and it's perfectly OK for your lawn to do so too. If you want your lawn to stay green, you will need to water it. But please pay strict attention to local guidelines and don't go breaking any hosepipe regulations.
Jobs to do in July
Water your lawn this is part of your lawn care regime. It's far better to give the grass a good soaking once or twice a week than it is to give it a daily sprinkle. My tuna tin technique will help. Watch the video here.
Mow as and when necessary. Raise the height of the cut to help your grass cope with drought.
If the weather is dry, let grass clippings fly. They will help conserve soil water.
Slit aeration can be useful at this time of year, it helps water sink deep into the soil.
Start planning your autumn renovations. If you need help from a lawn care company, it's wise to reserve your spot well in advance.
Apply spring summer feed. My personal preference for this time of year is a liquid feed. I find that if granular feeds sit on top of the grass for too long they have a tendency to scorch the lawn. It's not a good look!
I hate to nag, but it's really really important that you don't leave debris on the lawn for more than 24 hours. That's difficult if you share your lawn with children but trust me, lack of ventilation and sunlight at this time of year creates scars that can take ages to grow out.
Weed grasses often show up more at this time of year than at any other. Now is a good time to see if you can treat them.
Keep taking pictures and updating your records
Worried about your lawn looking a bit brown? Watch this video for a sneaky cheat to make your lawn look greener.
August Lawn Care
In some ways this is one of the best months of the lawn care calendar. The grass grows slower and I get to relax a bit more often. In my mind, there will never be anything better than sitting outside on a balmy summer's evening sipping a long cool drink as the sun goes down. I love to barbecue outdoors, and, if COVID restrictions allow, would like to reinstate the Lynn family's traditional Shoe Tree Festival. Great food, great music, great company. All of it outdoors on the lawn an all in aid of charity. It's tough on the lawn though!
Jobs to do in August
Keep watering if that's part of your lawn care regime
Spot treat any opportunist weeds but be careful not to scorch the lawn
Enjoy your lawn at every possible opportunity
Mow if you need to, but be careful not to scalp the lawn.
Watch out for crane flies! These are the parents of leatherjackets and august is breeding season. If you see lots of crane fly activity around your lawn, order and apply nematodes to reduce the risk of a leatherjacket attack next spring.
If your lawn is a little lumpy – order a supply of topdressing material ready to apply in autumn.
September Lawn Care
Autumn is approaching and with it will come a change in lawn care regime. Moist, mild weather brings a surge in grass growth as the plants come out of their summer dormancy period. Unfortunately, grass is not the only organism to enjoy these weather conditions. Fungal diseases thrive in them too, as do toadstools. Be vigilant. Toadstools won't normally damage your lawn, but fusarium patch will.
Jobs to do in September
Sharpen mower blades – it's important that every piece of grass gets cut really cleanly in order to keep common lawn diseases at bay.
If you have been irrigating your lawn, gradually reduce the frequency of watering now.
Apply a seaweed tonic to your lawn to give it a good boost and help it to green up after the hot summer.
Switch to autumn/winter formula lawn feed and apply some to your lawn this month, being careful to follow the manufacturers instructions.
Should toadstools appear, don't panic. They're a sign of healthy soil and will disappear as quickly as they popped up. Read my blog to learn more.
Be guided by the weather conditions for all lawn care operations. You may be able to carry out autumn renovations this month, but only if there is no sign of a heatwave on the horizon.
If the grass is growing strongly, you can follow aeration and scarification with topdressing to even out any lumps and bumps.
You can overseed any bald or thinning areas on your lawn this month. Be sure to keep the seed moist until it has germinated and is growing strongly. *Hint* watch the weather forecast and sow your seed when rain is forecast. That way Mother Nature will do the work for free.
Topdress lumpy lawns in order to level them out. For extreme indentations you might need to repeat this process in spring.
Really struggling with your lawn? This is the perfect month to rip it all up and start again with either grass seed or turf.
October Lawn Care
I hate to say it, but it's time to think about helping your grass plants prepare for winter. Good nutrition, disease control and some autumn renovations (if you didn't do them last month) are in order for October.
Jobs for October
This is your last chance of the year to spot treat any weeds with a herbicide. As the temperature cools they become less likely to absorb the chemicals.
Grass growth may be starting to slow down. You should be able to reduce mowing frequency to around once a week.
Increase cutting height to allow the plants to absorb every bit of sunlight they can. Longer grass blades = a bigger surface area for capturing the sun's energy.
If you've not applied your autumn/winter fertiliser yet, do it now. It's important that your lawn has the right nutrition to fight off disease and to make sure cell walls are as frost hardy as possible.
Scarify if you've not done it yet.
Apply a moss treatment – preferably after scarification
This is your last chance to apply weed treatments if you need to….weedkillers applied between November and March rarely work and are a waste of money, to say nothing of the potential damage to the environment.
This is a good month to carry out lawn repairs. Level and overseed any areas that are bare or uneven using good quality topsoil and appropriate seed.
If the edges of your lawn are ragged, there's a little trick I know to cut out the affected piece of turf and turn it around 180 degrees. You'll find yourself with a nice straight edge and a small dent 15 – 30 cm in from it. Repair the dent with topsoil and seed and it'll be as good as new in no time.
Falling leaves are the arch enemy of lawn grass. Be sure to clear them away every couple of days or so. (More often if you can). It's well worth investing in a good leaf blower, especially if you have a large lawn.
Need a new mower? Saltex 2022 is a trade show for Greenkeepers and lawn care professionals that takes place in early November. Book your tickets here.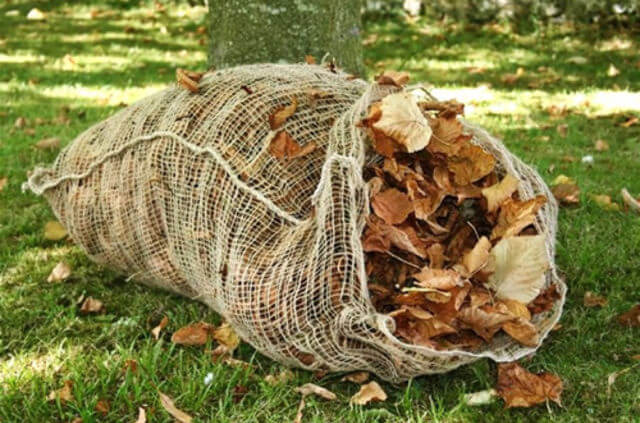 Don't waste all of those fallen leaves. Compost them to create a rich, nutritious mulch to use around your garden.
November Lawn Care
Winter is just around the corner and the evenings are getting darker. Which means less time for mowing! Just as well that grass growth is starting to slow down. You may still find that your lawn needs a weekly or fortnightly trim. Just be sure to choose your moment – avoid walking on a sodden lawn and don't even think about stepping on the grass if it's frozen.
Jobs to do in November
Keep removing fallen leaves.  It's a tedious job but it's essential
Mow when necessary, keeping those mower blades super-sharp. Raise the cutting height a little – longer grass always fares better in the winter months.
Feed the soil with a good quality autumn/winter formulation fertiliser.  Read my blog to learn more about what to feed your lawn and when.
Trim those lawn edges. It'll probably for the last time this year and it will ensure your lawn always looks neat, no matter what the winter weather throws at it.
Grass looking a little pale? A seaweed tonic will give it a boost.
Be vigilant – look out for signs of disease.
Start writing your letter to Santa.  Which pieces of lawn care equipment could he bring you to make next year's lawn care jobs easier?


December Lawn Care
Time for your big review of the lawn care year. How did it go? Can you see improvements from this time last year to today? What did you struggle with? How could you overcome those problems next year? Share your progress with the Premier Lawns Community on Facebook – we'll help you to celebrate your successes and suggest ways to improve the things you weren't happy with.
Jobs to do in December
If the lawn keeps growing, you keep mowing
Book your lawnmower in for a service, or order the spare parts if you plan to do it yourself.
Go through your shed and CAREFULLY dispose of any lawn feeds or lawn care chemicals that are past their use by date. Be sure to follow manufacturers recommendations if you do need to throw anything away. Ensure that everything is stored safely and protected from frost.
Worried about the colour of your lawn?
Look back at your records to review your progress and start to make plans for your 2023 lawn care regime.
Tackle any pruning, hedge cutting and tree trimming jobs to allow as much light and air to your lawn as possible.
If you haven't done it yet, apply a moss treatment
Enjoy some time off – spring will be here before you know it!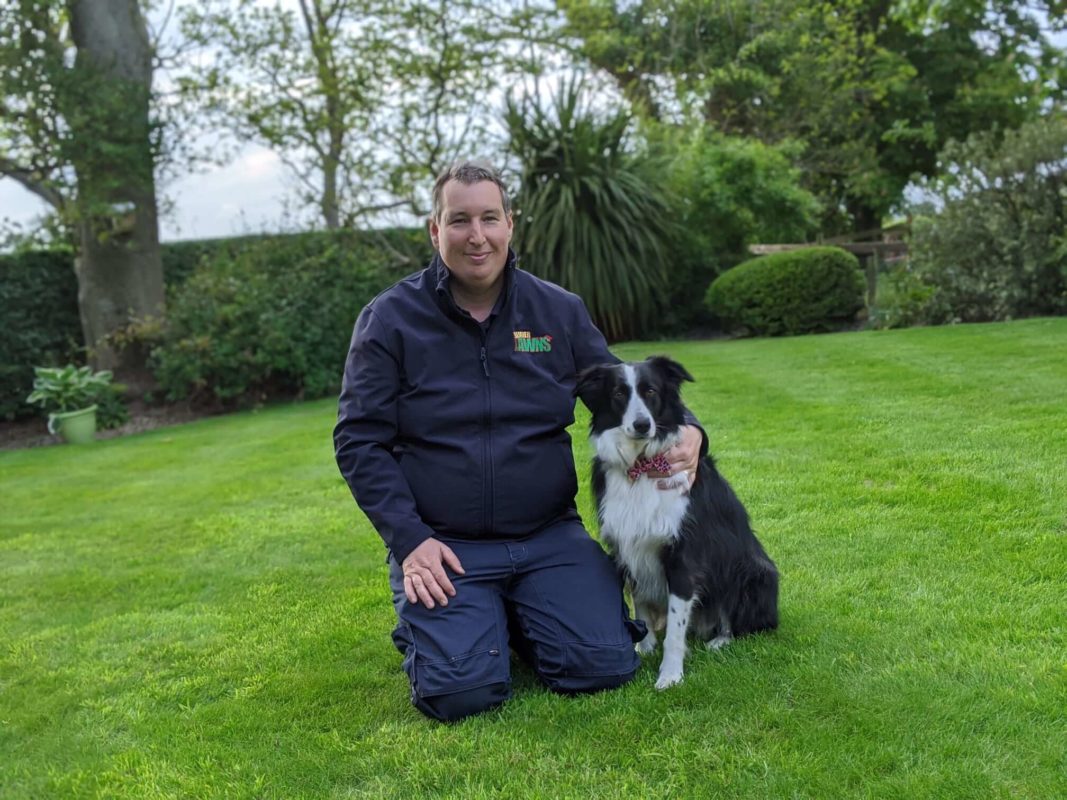 So there we are, your complete lawn care calendar for 2022 with a long list of jobs to do each month. If you ever get stuck and need lawn care advice, head over to my You Tube channel where you'll find loads of informational videos. And don't be afraid to ask questions. It's your interactions that help me to decide what to video and blog about next.
If you are thinking of buying lawn care products online, please think about using the Amazon links embedded within this article. It won't cost you any extra money but the suppliers will give me a small commission which helps to pay for the cost of creating my videos and blogs.
Have a great year everyone and don't forget to share your pictures on the Premier Lawns Community Facebook page.
Sign up for my monthly newsletter to discover what's new on my YouTube channel and which lawn care jobs you should be doing.